Select tickets
Enter details
Payment
Complete!
Tickets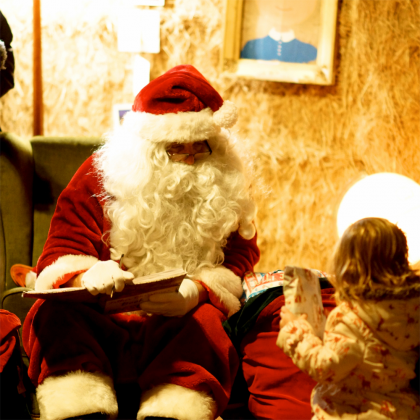 Enjoy a magical and festive family visit to Bocketts Farm to meet Father Christmas in his traditional hay barn workshop
The visit begins as the children hop on board the Santa Express trailer with one of the elves for a short ride from the Farm Park. Up to 2 adults may accompany each child by walking alongside the trailer, which travels very slowly. Each group size is a maximum of 15 children.
Once through the magical gates, you'll gather as a group in his workshop, set deep in a traditional hay barn. In the grotto, each child will meet Father Christmas and receive a wrapped present from him. The visit from start to finish takes approximately 15 -20 minutes.
PLEASE NOTE THAT FATHER CHRISTMAS CAN ONLY BE BOOKED WHEN VISITING THE FARM PARK TOO.
Advance bookings must be made online before midnight the day before. Tickets for the Farm Park are always available on the day. Father Christmas bookings can occasionally be made on the day but we cannot guarantee availability. Please call the office on 01372 363764 to check before you leave if you don't have pre-booked tickets.
• Adult £10.50
• Adult £5.00
• Adult £10.50
• Child 3-17 yrs £19.45
• Child 3-17 yrs £13.50
• Child 2 yrs £17.70
• Child 3-17 yrs £19.45
• Child 2 yrs £13.50
• Child Under 2 £8.50
• Child 2 yrs £17.70
• Child Under 2 £8.50
• Child - Disabled £16.70
• Child Under 2 £8.50
• Child - Disabled £13.50
• Child with Valid 5 Visit Pass £8.50
• Child - Disabled £16.70
• Child with Valid 5 Visit Pass £8.50
• Senior £9.80
• Child with Valid 5 Visit Pass £8.50
• Senior £5.00
• Father Christmas Visit - Additional Adult £2.00
• Senior £9.80
• Father Christmas Visit - Additional Adult £2.00
• Father Christmas Visit - Additional Adult £2.00
Your Basket
Item
Price
Qty
Subtotal
There are no items currently in your basket

Total

£0.00