Select tickets
Enter details
Payment
Complete!
Tickets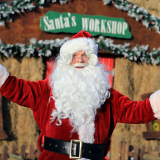 Enjoy a festive family day at the farm including a visit to meet Father Christmas!
This year we've added even more magic to the Father Christmas experience at Bocketts Farm! You'll start the journey with one of our very important head elves. Children will hop aboard the Santa express and travel in style to the magical workshop, where you'll gather as a group for some fun with the elves. Next you'll meet Father Christmas himself and receive a golden coin to spend in his very own toy shop!
Each group carries a maximum of 20 children. You should allow up to 45 minutes for the experience from the start of your Father Christmas session time.
Bookings can be made online up to midnight the day before. Tickets for just Farm Park entry are always available on the day. Father Christmas bookings can occasionally be made on the day but we cannot guarantee availability. The ticket time you select is the departure time of the Father Christmas visit. Please arrive at the farm at least 30 minutes before your session starts.
If booking for 10 or more children, or for an educational or party visit, please call our office on 01372 363764.
• Adult £11.95
• Senior £10.50
• Child - 3-17 Years £24.95
• Child - 2 Years £22.95
• Child - Under 2 Years £12.00
• Child - Disabled £21.50
• Child - With Valid 5 Visit Pass £12.00
• Adult: After School Farm Entry £5.50
• Adult: All Day Farm Entry £11.95
• Senior: After School Farm Entry £5.50
• Senior: All Day Farm Entry £10.50
• Child - 3 - 17 Years: After School Farm Entry £17.50
• Child - 3 - 17 Years: All Day Farm Entry £24.95
• Child - 2 Years: After School Farm Entry £17.50
• Child - 2 Years: All Day Farm Entry £22.95
• Child - Under 2 Years £12.00
• Child - Disabled: After School Farm Entry £17.50
• Child - Disabled: All Day Farm Entry £21.50
• Child - With Valid 5 Visit Pass £12.00
Your Cart
Item
Price
Qty
Subtotal
There are no items currently in your cart

Total

£0.00